This August, OMP USA celebrates an impressive double milestone: 20 years of operation for its Atlanta office and a thriving team of 200 members.
Back in August of 2003, when the company was known as OM Partners, OMP established its U.S. office in Atlanta with just two dedicated employees. The move was driven by expanding partnerships in Europe and a pioneering spirit to explore opportunities across the Atlantic. This marked the beginning of OMP's fourth regional office after its founding in Belgium in 1985.
From local to leading customers
Early successes for the Atlanta team included onboarding local customers in industries like chemicals, floor covering, and metals. These accomplishments laid the groundwork for collaborations with major customers including Eastman, General Mills, Procter & Gamble, and Shaw Industries.
From single floor to full-service hub
Located in the Paces West business center in
the
historic Vinings neighborhood
, the office initially occupied a single floor. Recognizing the team's growth and customer needs, a second floor was added in 2020, providing more space for innovation, collaboration, and training. Over the years, the office evolved into a
full-service regional hub
, incorporating activities like product development, cloud & infrastructure, HR, and finance.
Building bridges across the Atlantic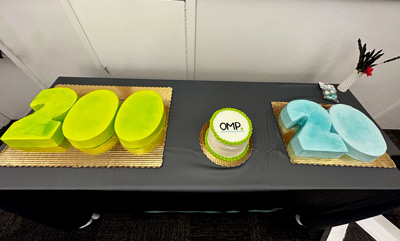 The 20-year celebration underscores the united global effort at OMP. Expats played an instrumental role in propelling the office's growth, while the U.S. team contributed to global processes and excellence initiatives. With team members representing 19 nationalities, diversity has been a cornerstone of OMP USA's success.
Reflecting on the journey, Philip Vervloesem, a pioneer of the Atlanta office, says: "It fills me with pride that we've expanded into the U.S. while staying true to our values and building lasting partnerships with Fortune 500 customers. Our growth has been organic, powered by strategic alliances that enhance our capabilities."
OMP CEO Anita Van Looveren, who steered the ship during these pivotal times, expresses her appreciation: "Our dedicated team has turned ambitious dreams into reality. I celebrate this milestone with gratitude and look forward to upholding our values and delivering top-notch service to our valued customers."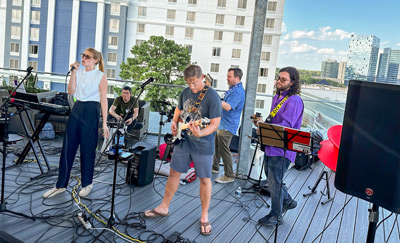 To mark the occasion, the U.S. team enjoyed a cake-cutting ceremony, a live concert by the OMP House Band, and a buffet along with other festivities.
As OMP USA continues to grow and innovate, the company is actively seeking new talent to meet the high demand for its AI-driven solutions.
Contact
Philip Vervloesem
, SVP OMP USA
Phone:
1-770-956-2723
E-mail:
pvervloesem@omp.com